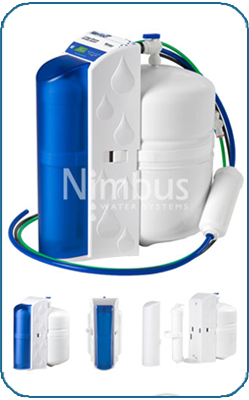 Compact 5-Stage Reverse Osmosis System
The WaterMaker Five features a four-stage prefilter, membrane, and postfilter housed in a single cartridge. The fifth stage, an in-line carbon filter, is placed between tank and faucet. The high capacity sediment prefilter removes dirt, silt and other suspended solids; the granular activated carbon (GAC) prefilter removes chlorine taste and odor: the 50 gpd reverse osmosis membrane removes salts and other impurities; a GAC postfilter provides fresh-tasting, clear drinking water.
Green By Design®

The WaterMaker Five uses the latest in system design and membrane technology to reduce the amount of water down the drain by 50%.
Easy to Maintain
Yearly maintenance is quick and easy. Simply remove the cover and replace the main cartridge – no complicated plumbing connections, no tools required. The in-line postfilter utilizes easy quick-connect fittings.
NSF Standard 58
The WaterMaker Five (WM5-50) has been tested by The Water Quality Association against NSF/ANSI Standard 58 for the reduction of TDS, arsenic, cysts, fluoride and lead. The official listing may be viewed