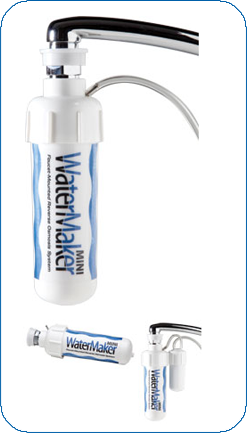 Faucet-Mounted Residential Reverse Osmosis System
The WaterMaker Mini produces high quality, reverse osmosis water simply and easily. The unique WaterMaker Mini attaches easily to the kitchen faucet aerator with a quick-connect fitting to produce up to 20 gallons of reverse osmosis water per day. This system does not require a holding tank or a permanent in-sink connection.
Faucet Mounted Reverse Osmosis
The WaterMaker Mini reverse osmosis system produces high quality drinking water simply and easily. There are no heavy bottles to lift , no trips to the store and no permanent plumbing connections required.
Using the WaterMaker Mini
The WaterMaker Mini attaches quickly to your kitchen faucet. Tap water will circulate through the unit. Fresh water will flow slowly from the tubing. Collect the fresh water by directing the tubing into a pitcher or other container. When the container is full, detach the system and store it in the refrigerator until next use.